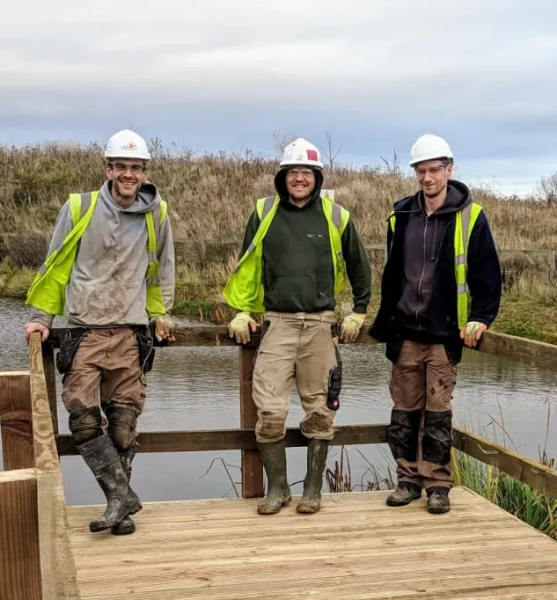 Our Team
Jonny Gibson has been running Wildlife Gardening Services since 2007 and has seen the business progress year on year. Jonny carries out site visits to provide quotations and advice to customers. As well as being project manager for each piece of work Jonny also undertakes habitat creation and management work so is always on-site to guide the project through to completion. Outside of work Jonny enjoys family life with his wife and two young boys, including managing his eldest son's local grassroots football team. Jonny also runs a weekly 5-a-side football group in Stockton.
James Worthington started working for Wildlife Gardening Services in 2009 and has been a valuable member of the team ever since. James is adept at joinery, fencing and all aspects of habitat creation and management, as well as having a keen interest in British wildlife, which luckily for the team they get to see on a daily basis. Outside of work James loves wood-turning and making electronica music, as well as spending time with his girlfriend and their young daughter.
The newest member of the team is Daniel Ditchburn, having started working for Wildlife Gardening Services in March of 2019. Daniel is learning all aspects of habitat creation and management work and so far he's worked on a varied range of projects at schools, on industrial sites and in residential gardens, proving himself to be hard-working and a quick learner. Daniel is very interested in wildlife and enjoys seeing all manner of flora and fauna while out walking his dog.
Highly Recommended
Most of our work comes via word of mouth recommendation from people throughout Stockton-on-Tees and the wider Teesside area. That's how you can be certain that the work we do is of the highest possible standards.
Our Service
Creation of wildlife ponds and subsequent management
Creation and erection of different styles of nest boxes for different bird species
Creation and management of wildflower meadows and cornfield annual areas
Native-planting schemes using British plants beneficial to wildlife i.e. seed plants for birds, nectar and food plants for butterflies, bees, hoverflies etc.
Maintenance of existing wildlife areas
Creation of hibernation areas (hibernacula) for mammals, amphibians and reptiles
Tree-planting (native British trees) including creation of orchards
Complete wildlife garden creation
Specialist creation of artificial badger setts and fox earths
Nature trails - raised boardwalks, embankment steps and marker posts